These free printable gift tags are such an easy and fun way to add a beautiful and personal touch to your gift wrapping this year!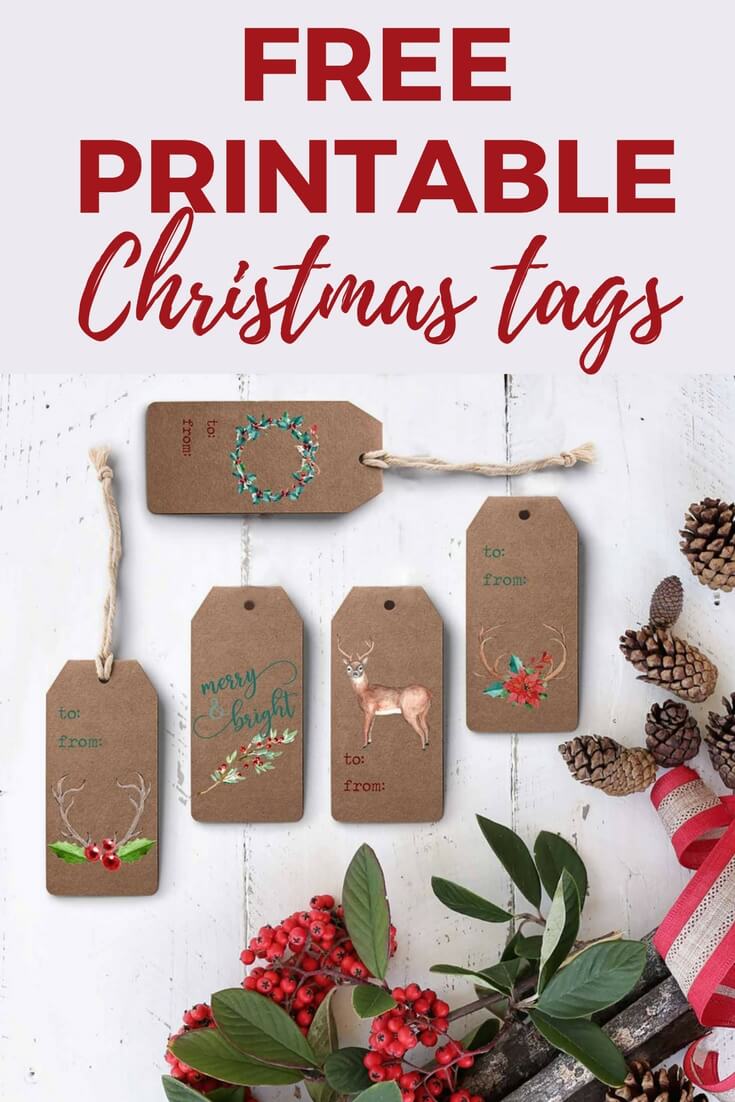 Hi! I am Cynthia from Home Beautifully. With less than ten weeks 'til the holidays, gift giving season is nearly upon us. I don't know about you, but when I get a gift that's wrapped beautifully, I feel all a-flutter inside. The fancier the wrapping, the greater the anticipation! The thing is, though, as much as I love well decorated presents, I don't love paying for fancy holiday paper and gift tags. Anyone else ever get overly annoyed at the cost of gift bags and ribbons at the drugstore?
Over at my blog, Home Beautifully, we're all about simple solutions for designing beautiful homes and decor. So creating dazzling gift tags at a cost that's not blinding? Absolutely! I'm so pleased to join the Designer Trapped family to share this easy and affordable tutorial for creating this beautiful DIY Christmas printable gift tags. (And for a special bonus art print, keep on scrolling!)
First, to get the free printable christmas tags, click below!
Printable Gift Tags for Christmas
Materials Needed:
Cardstock
Color Printer
Gift tag template
Hole punch
Scissors
Optional: Hole Reinforcements
Optional: Markers
Ribbon or Twine
Steps:
First things first, grab the PDF with all of these free printable gift tags (you can click here to get the printable PDF for free) and download it to your computer. You'll want to make the printable gift tags with card stock or heavy paper so that they're sturdy. Last thing you need are your gift tags falling off and Aunt Myrtle getting the holiday skivvies you wrapped for your honey! So sturdy up your tags with some quality paper. I recommend cream card stock or heavy weight craft paper to go with the tags' rustic farmhouse vibe.
Next, cut out each tag. If the mulled wine has got you feeling festive, feel free to add some scallops, curves, or ornamental edges to the outline. Or keep it simple if you have far more presents to wrap than elves to help you. Once you cut the tags, you might want to reinforce the holes with little stickers. While reinforcement stickers come in white, you can color the sticker red and add a pop of holiday cheer. String on some ribbon or twine to affix your tag to your gift, and you're all set!
Aren't they pretty?!
And speaking of gifts, as a special gift to for Designer Trapped readers, I've designed a beautiful coordinating art print, perfect for easy and inexpensive holiday decor. This art print's featured in the Home Beautifully Resource Library, alongside dozens of other gorgeous free printables! Just click here to visit my blog and my free resource library to grab this print now :)
I designed these Christmas gift tags and art print using graphics from Freepik. If you loved these DIY Christmas tags, be sure to check out these decor and DIY posts, too!
| | |
| --- | --- |
| How to Create the Perfect Coffee Filter Wreath (with Video!) | Gorgeous Free Fall Printables … 10 Pack Collection! |