Interior design inspiration is easy to find, you just have to know where to look!
Thank you to Houzz for sponsoring this post.
Hey friends! If you are like me, you love soaking up home design inspiration every chance you get. After all, it's only after browsing and collecting interior design ideas that I come up with design plans for my own home. I never look to just one single source, and have been known to sometimes find inspiration even from TV commercials (lol!), but my absolute favorite source for interior design inspiration is Houzz.
Have you heard of Houzz? I discovered it a couple of years ago and I'm obsessed with it. Houzz contains more than 15 million high-resolution interior and exterior home images tagged and organized according to style and room/space. You get tons of GORGEOUS results that are sure to get your creative juices flowing. For example, my search for "industrial kitchen" gave me over 12,000 results, and just check out this screenshot from my search results. (I typically browse from my desktop computer, but there is also an app that is free for iPhone and Android users).
As you browse, you can save your favorites to your "ideabook." And your ability to narrow search results is incredible. I can sort my industrial kitchen results by the kitchen layout! This is incredibly useful for anyone who knows that they will be working with a particular layout. After all, who wants to fall in love with L-shaped kitchen ideas that won't work at all in their galley kitchen, right?!
The options for filtering your results are endless. For kitchens, I can further narrow by backsplash color, countertop material, number of islands, floor material, etc. It's AH-MAZING.
So, you may have guessed that we are gearing up for a total kitchen renovation (we did a kitchen makeover about 4 years ago to get us through to when we could afford to do a full gut–you can see that makeover here). And you may have also guessed that we are leaning toward an industrial vibe in our future kitchen. Well, here are 3 inspiration photos that I have found on Houzz that I keep going back to over and over again.
Right away, I can look at the three photos and see what they have in common: 1) subway tile, 2) natural wood tones and, 3) simple cabinets. So, clearly I am drawn to those elements and should include them in our own kitchen design. Looking for common elements in your inspiration photos is a GREAT way to narrow down what you are really drawn to :) In my case, I am really amused because I didn't think I wanted subway tile in our future kitchen, but my subconscious is telling me otherwise!
And here's what's really cool… Once you browse tons of photos and start coming up with a plan for your own space, you can use the shop feature of Houzz! You know how sometimes you find a photo of a room you LOVE and there is a specific item in the room that just "makes it"? Well, now you can probably hunt that item down using Houzz's Visual Match. The Visual Match tool scans photos to identify similar products and shows you examples of those products that are available in the Houzz Shop. It's AWESOME. Just click (or tap) the white product tag in photos and you'll see the same or similar items available to purchase in the Houzz Shop.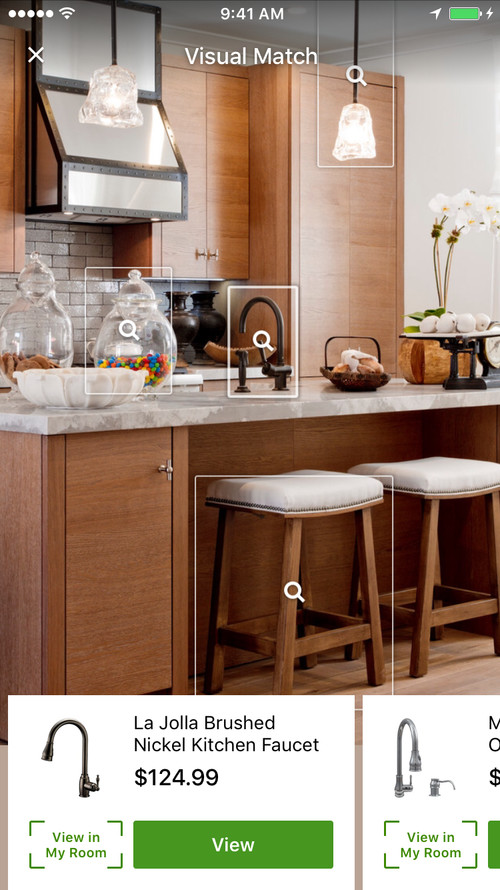 You can also browse the Houzz shop offerings the traditional way. For example, as we plan for our kitchen makeover, I know I want some EPIC bar stools. Well… check out what I found.
I didn't count, but there were at least 50 gorgeous bar stool options under $199.00 that popped up. And to find out details about one of the items, all I have to do is click "view." If I decide I want it, I can check the availability and/or order it right there from the Houzz website. And to find out details about one of the items, all I have to do is click "view." If I decide I want it, I can check the availability and/or order it right there from the Houzz website. Houzz sources amazing products from tons of different sources, which saves me loads of time. It's much easier than me going to 15 different websites to try to find what I am looking for.
If you haven't tried browsing Houzz for interior design inspiration yet, you are seriously missing out. I hope you'll check it out. Maybe we'll even run into each other over there while I am soaking up all the kitchen inspiration I can find :)