For the first time, we are able to complete some key projects BEFORE we move into our new home. We are sharing with you the best things to do before move-in day that will make your life so much easier!
In this episode, we talk all about the things that are happening BEFORE we move in. We are finally at a place where we can have a little bit of space between our moves and this allows for some pretty big jobs to be done prior to moving almost anything in. This is the first time we have been able to afford to do this, and to say the hard work is all paying off is an understatement. For the first time I am walking into a house that is going to be mostly ready for me to tackle the fun design work that is the part that I REALLY love. Join us in the closets for another fun discussion!
This post contains some affiliate links for your convenience. Click here to read my full disclosure policy.
Want to listen on your favorite app? Click whichever option you prefer below:
iTunes |  Stitcher |  Spotify  | Google Play 
All the Details From This Episode
This is EXCITING because we have never been able to do anything to a house before we move in. With a little luck and a lot of hard work fixing up every house we have ever owned, we are finally able to afford to do some things to this house before we move in. I don't want people to think we all of the sudden have a bunch of money to sink into this! We worked hard to get to this point.
You can take the full BEFORE tour of our new house here so you can picture what we are talking about in this episode.
We are having quite a bit of painting done. Bedrooms and main living spaces will be done by someone else, and I am so dang excited. I am all painted out from painting almost every room in every house we have ever lived in. And as Thea reminds me, "time is money!" Somethings will still be up to us, but we are gonna move into a mostly painted house and I can't even handle how happy I am in to jump right into decorating.
The fact that we are going to be able to immediately unpack our house is mind-blowing.
We have a mural planned for Avery's room that I will do myself, but Attley and I are still hot and heavy into negotiations on room design. She still loves all the rainbows and girly things, and we are trying to compromise! Avery's mood board is so awesome and I cannot wait to share it.
Wallpaper is also happening, but I will do that myself also later. I shared some of the samples I got on Instagram, and safe to say y'all are as excited for it as I am. For Joe to okay all my (our) wallpaper dreams, I have to create mood boards and really show him what the plan is. I know my guy and how to appeal to him!
The other big thing we are doing before we move in is flooring. We have lived through having our floors refinished while we lived in the house and it was terrible. It is important to understand that even "dustless systems" are not dustless. They just minimize the dust. Getting it done before you move in is AMAZING and so much better if you can swing it.
The downstairs of the new house has hardwoods, but the two downstairs bedrooms have carpet. We are having it all pulled up and putting hardwoods down and they will have to weave in and refinish the new floors to match. If we don't do it now, I don't think we ever will. This is what the master bedroom looks like right now–you can see that the hardwood planks were being delivered as I took this photo. Wooooo hoooo!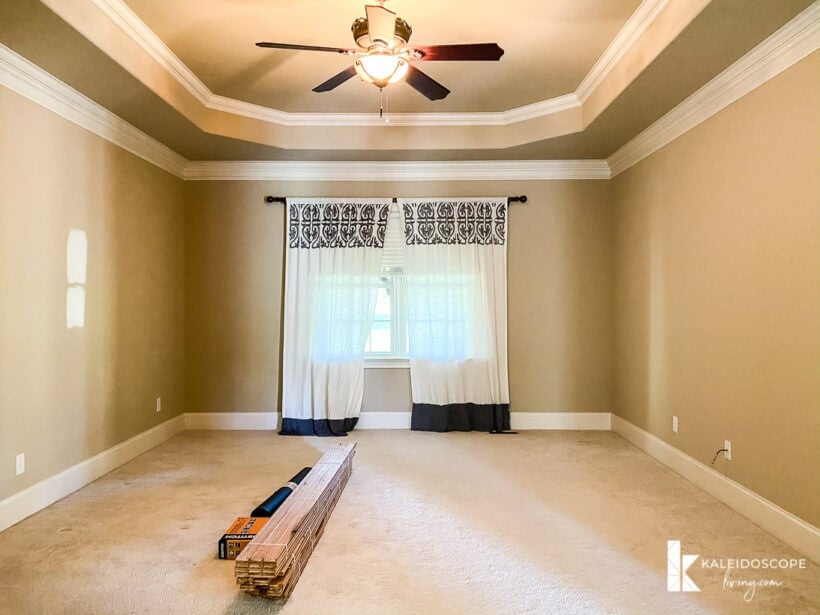 Upstairs, everything is carpeted. It isn't gross or dirty, but it is definitely worn out. We are switching it all out to what we just had put in our current house in Avery's and Attleys bedrooms and the guest room. Ripping out carpet is disgusting and I am excited to get new so it is fresh when we move in! You can see the carpet we are using here.
I am cursed when it comes to buying a new house. Two things keep happening–terrible light fixtures that have to be replaced and all brown everything. You already know we are painting over the brown–we talked at length about it in the first episode this season. I also have to switch out all the light fixtures. If the new lighting I have ordered to replace the old (this house has lots of boob lights) then I will go ahead and switch it out.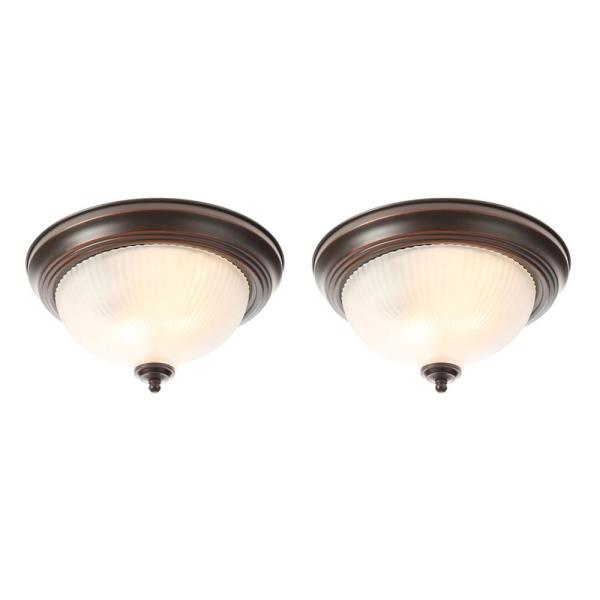 I am so happy to move into a fresh empty shell. All of the bathrooms have to be updated so we are leaving them as-is for now until we determine our exact design plan. They will remain gloriously brown. We may switch out some mirrors and lights and maybe add a cute bath mat, LOL. Something to help get us through. We did it in our master bathroom in the old house and it looked great, so I know we can do it again!
If I am feeling ambitious, I will paint the kitchen cabinets before we move in. I am doing it myself, and plan on using the method we used in Thea's kitchen. We don't have a ton of cabinets (our big pantry will hold most of our stuff–at least that's the plan). This is what the kitchen currently looks like.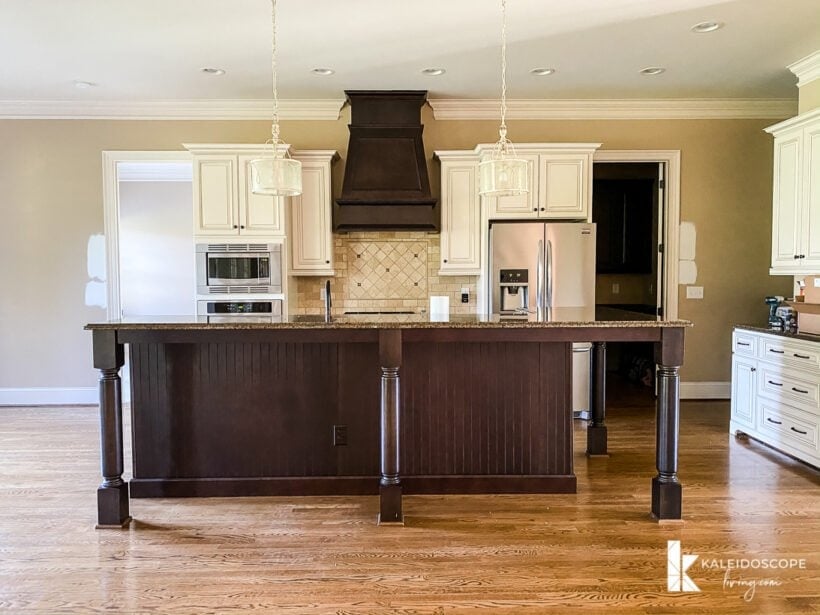 What is happening with the closets in the new house you might wonder, especially after listening to last week's podcast? They are not wire, thank goodness. (Sidenote: I hate the lines wire shelves leave in clothes and towels. Thea thinks I am insane. WHO'S WITH ME? ) The shelves that are in there aren't fancy but they are built-in and would be a pain to remove. We are gonna give them six months and then address if need be. You can take a tour of the closets in our current house here–we installed systems in all of them in the time that we have lived here.
We are back in the closets and they are warm and toasty and Thea can't stop yawning.
Whatever house you are in and if you are the one doing all the paint yourself and having to live through all the changes after you move, just believe it will pay off someday! Do the work, save the money, and eventually, you will be in a place to hire some of the work out.
If you have any questions or want to chat with us, click here to follow me on Instagram. I am starting to do reels now! Tag us on IG at @tasha.kaleidoscope and tag us in pics or screenshot your episode and tell us what you are doing while you listen. We love seeing those and try to share them as often as possible! Make sure you are following me on Instagram so you can follow along with my stories and see all the behind the scenes action. I talk about ALL the things (not just home decor and DIY!) and it is very fun so come hang out with us!
Get Social With Us
If you are wondering how I come up with room designs (like I did when we decided to give this kitchen a makeover), the answer is Designer in a Binder®. Designer in a Binder® is the design system I have used for years and years! A couple of years ago, I finally put it all down on paper so that others can use it as well! In it I walk you through all the important stuff like choosing items that are the correct scale, space planning, mixing patterns, choosing colors and more! I give easy-to-understand guidance on all of this in Designer in a Binder®! You can order your binder now. We have over 6,900 happy customers so far! Click HERE to learn more.